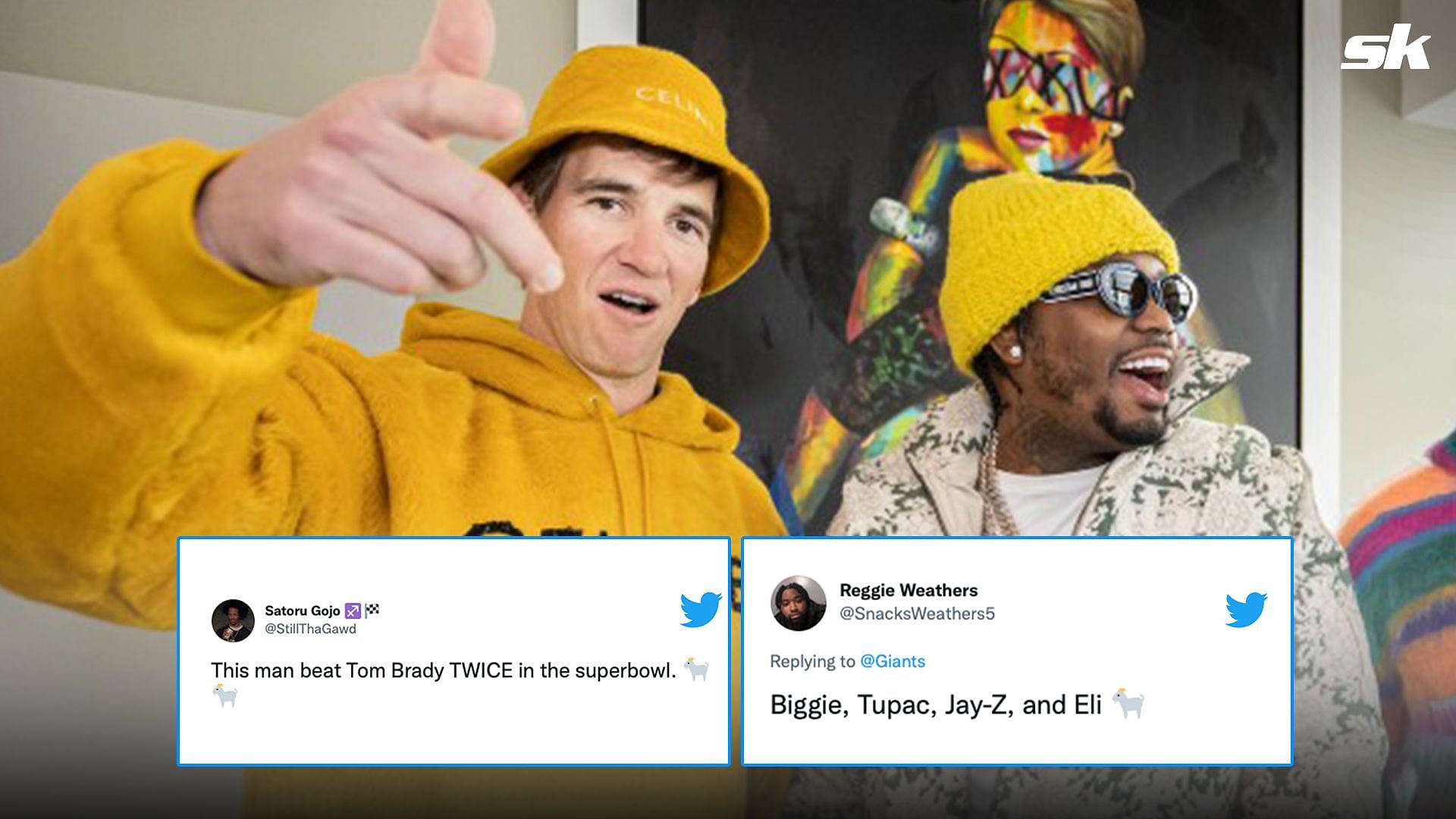 "This man beat Tom Brady twice in the Super Bowl" – NFL fans torn over Eli Manning's collaboration with Fivio Foreign
Two-time Super Bowl-winning quarterback Eli Manning has his own "Eli's Extras" show on the official New York Giants YouTube channel. Manning is joined by his former center Shaun O'Hara as they conduct interviews and go on adventures in each episode.
On the most recent episode of Eli's Extras, Manning and O'Hara visited rapper Fivio Foreign. Upon arrival, they are told they are not dressed appropriately to enter Fivio Foreign's studio and are given new threads. Once they meet Fivio Foreign, the rapper also gives them chains to wear.
In their new clothes, he and O'Hara received advice from Fivio Foreign on how to rap. They then created the "1 on 3 NY Giants Remix".
When the video was released on YouTube and then on the official New York Giants Twitter page, many fans were shocked by what they saw. There were a lot of jokes about their outfits as well as their rapping abilities.
NFL fans were also quick to mention that it was the same person who beat Tom Brady in two Super Bowls. Others praised the quarterback for his ability to try anything. Here are some of the comments:
Could Eli Manning be the next athlete to invest in Major League Pickleball?
The Manning brothers are competitive to say the least. Whether it's on the football pitch or doing something for one of their many entertainment venues. In a recent interview with People Magazine, Eli Manning said he and Peyton Manning are extremely competitive when it comes to playing pickleball.
He said he thought he was better than his older brother but, as competitive as he was, neither had suffered an injury yet.
In an interview with People, Eli Manning was asked if he would be the next top athlete to invest in Major League Pickleball. He said it wasn't something he had thought of. Stating that right now he just enjoys playing the game for fun and social reasons:
"I haven't reviewed the ownership part of it. I just like playing it and the social aspect of it."
Several athletes have already invested in the league. These include seven-time Super Bowl winner quarterback Tom Brady, NBA champion LeBron James and Super Bowl champion Drew Brees, among others.
Although Eli Manning has said he is not interested in investing at this time, that could change at any time, especially if the hype and popularity of the sport continues to grow nationwide.
If you use any of the quotes above, please credit People and H/T Sportskeeda.
Learn how to get a $1,000 risk-free NFL bet here