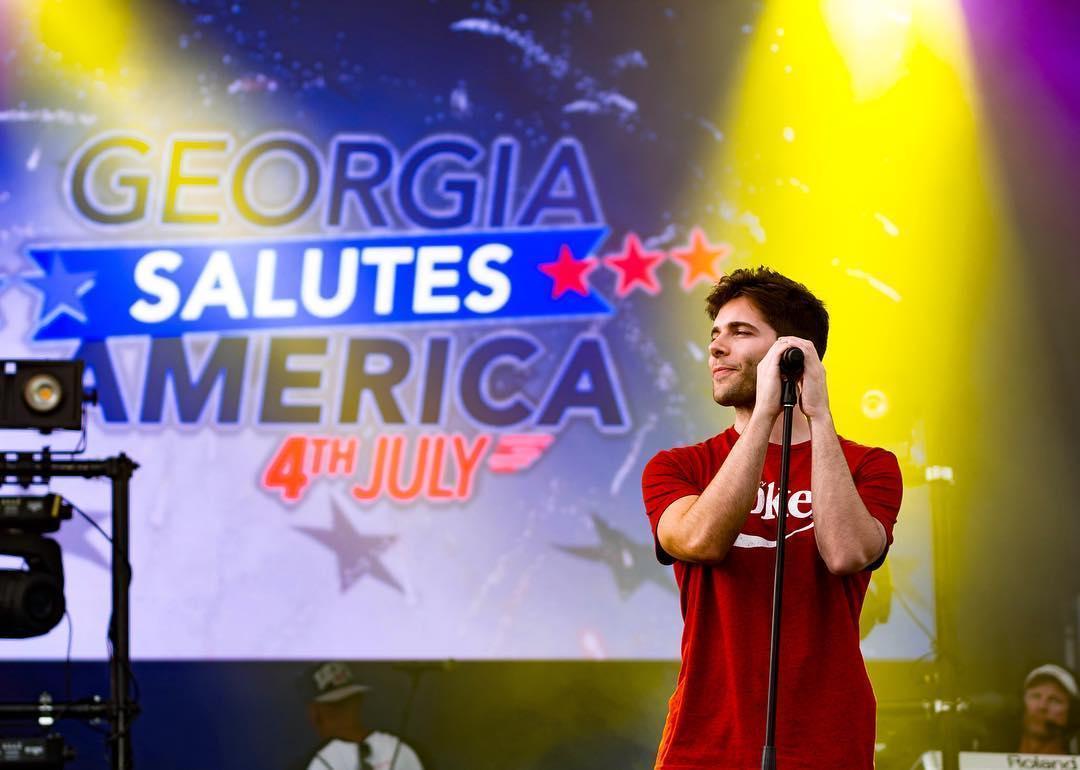 Jordan Bolch – With a groovy beat that captivated audiences
Have you ever been so captivated by listening to a moving song? Songs that are extremely catchy to hear, make you smile, sway, shake your head, move, dance. Your energy increases as you continue to enjoy the melody and rhythm. Amazing vocalist Jordan Bolch's incredible performance captivated audiences by dishing out bright, lively tunes across eclectic genres. Jordan's voice sparkles at the top with strong, familiar drum beats that sweep you away. Powerful melody and high intensity tone create moods.
Jordan Bolch, the emerging singer and songwriter from Atlanta is considered one of the voices of his generation. At the young age of 33, Jordan is recognized as a dynamic start in the pop industry. Making his musical debut in 2015, Jordan Bolch created exquisite tracks like 'Blow up the Room', 'Touch the Sky', 'My Love', 'Keep It Rocking' and 'Dance Around'. These songs created a niche for him by pairing catchy vibes with sounds from different genres. Jordan's compelling music track brings together genres like Pop/Rock, Rap and Electronic, and Hip Hop that create a new and unique genre of music. In the 21st century, Billy Joel brought musical diversity. He has produced stunning tracks in various genres that outshine other singers due to their originality and uniqueness.
Jordan Bolch uses modern musical genres and styles
Beginning his career with his debut album Slide, Jordan Bolch used the modern styles and modes of music that made him a versatile singer. Having a lustful voice, he uses different styles that give him more technical ideals to transform his singing style. Like a Professional singer, Jordan knows how to attract the public from the beginning of the song. It uses jerky rhymes, catchy puns and powerful and captivating lyrics that play a key role in capturing music fans and creating a hit song. It maintains resonance and focus and provides a starting point for transforming the voice to meet stylistic requirements of any genre. Using a resonant, low-vibration and balanced sound, Jordan possesses the ability to stylistically unbalance his voice to give his singing a unique effect. His debut album, Slide is a masterpiece, the quality of the musical genre is superb, and the clarity and quality of every mix is ​​outstanding and perfect. The songs portray perfect tonality and harmonious music amazes the fans of Jordan. The first song, Desperado begins like a Quentin Tarantino movie soundtrack, then Jordan stuns the audience through an epic modern story of a female outlaw while singing the blues.
Jordan's music track includes genres of popular music used by contemporary pop musicians. Rock classics like Billy Joel, The Beach Boys, Elvis and Paul McCartney to pop music artists like Justin Timberlake, Pharrell Williams, Timbaland and Michael Jackson have used rock and roll, rap and hip hop style. Jordan music fans find the specific musical techniques in his songs. It uses drum/percussion layers, orchestration, bass section, horns and woodwinds. While his songs include rock and roll music, a fusion of pop, R&B, electronic and dance music.
Jordan Bolch employee rap and hip hop music. Rapcore components used by Jordan include rhythms, rhymes, lyrics and vocal tone that keep the words flowing. The almost up-tempo voice Ininfluences young audiences to move in time with the music. He employs harsh screams or soft flourishes depending on the creative needs of the song. Rap beats are created using instruments such as drum machines, keyboard, pianos, turntables, and samplers.
Jordan tested all the instruments during the recordings. He begins by playing it first on the piano, then transforms it into electronic music that includes a bass section, layers of drums, horns, orchestration and woodwinds. Synthetic drums dominate the sounds heard in hip hop, pop music, and dance music. In addition, turntables help him harness sound to create various perspectives of music. Jordan's greatest hip hop songs have the power to increase the energy and excitement of the audience. Hence, these instruments have helped Jordan revolutionize music and produce the best hip hop music for young music fans.
It takes all music fans to scroll through the YouTube page of Jordan Bolch to see how this up-and-coming singer is changing the face of pop music. Using both digital and analog innovations, his music is both contemporary and reminiscent of late 90s rap music, demonstrating great diversity in musical genres. He inspires his fans by releasing "Worldwide Remixes", a compilation of songs that communicate deep thoughts and change emotions. The latest album, 'World Tour' is a compilation of 13 songs that shows the versatility of pop music.
Jordan Bolch enjoys organizing events and performing live. The live music concert in Jordan includes modern instruments and digital technologies such as computer software that have changed the game of rap music. Using software such as Ableton Live or Apple's Logic Pro X, Jordan put his beats and his music together. Mixing and matching beats help him produce unique tracks. Additionally, computer technology also allows hip-hop singers to integrate samples, beats, vocals, and turntables into one cohesive song, making unique and wonderful recordings.
Jordan Bolch continues to entertain fans. Due to the closures last year and this year, it was difficult to organize a life event. However, Jordan took the initiative to organize a concert and small gatherings, outdoors. Bolch and his team decided his fans needed a day too. That's why, when E11EVEN Beach Club hosts the adults-only water park festival this fall in Orlando, Jordan gave an outstanding performance to all his fans.
Jordan after taking a short hiatus from music due to the COVID 19 pandemics is now back with another hit "You Got Me". A new music video for the soon-to-be-released song "Centerfold" which features Jordan's signature elements with a groove. He's also working on other new beats and releases that are sure to win many hearts!
Holding the abilities of a singer artist, Jordan Bolch is also a songwriter. He wrote the commercial jingle for the premium water brand, Le Bleu, based in Advance, NC. Jordan serves on the board of directors of RaceTrac Petroleum, Inc.
Fans expect masterclass performances from Jordan Bolch. The songs have a gripping groove with absorbing shimmers of instrumentation. There is a wonderful kick of rhythm in all the songs that have captivated music lovers. Jordan Bolch has several popular music videos, each garnering over a million views, and the numbers continue to rise as his fame spreads Jordan's tunes and music portray a lively party storyline, which goes well with the beat. of his songs. He made a name for himself through originality and artistry, he sings with a high-intensity shimmering soul vocals that touch the heart and captivate music fans. The musician is constantly planning to bring new enjoyable hits, unique tunes and better mixes in his future that will create amazing music and engage a wider audience. This will help her further redefine her success in music and open up more prospects for success and heights in the pop world.