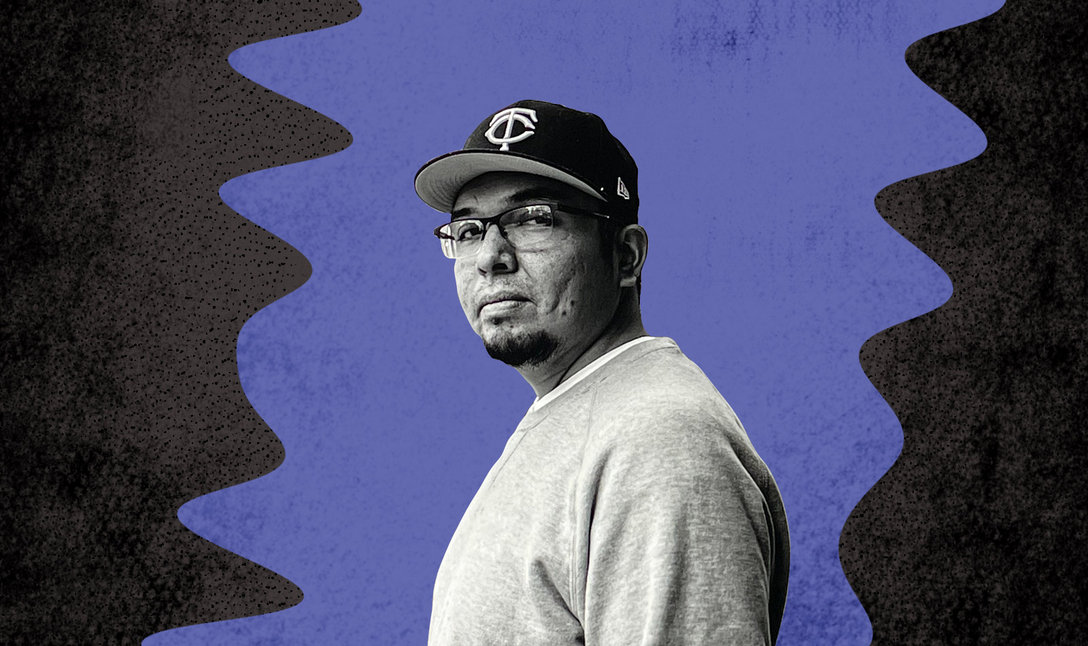 Joe Rainey finds a new beat
FEATURES

Joe Rainey finds a new beat
By Harley Oliver Brown June 10, 2022

Powwow singer Joe Rainey was watching Minneapolis producer Andrew Broder set a beat at the Wisconsin Eaux Claires music and arts festival when something extraordinary happened. Reuben Crowfeather, a member of the Hunkpapa Lakota tribe and member of the Minnesota Iron Boy drumming group who was in the audience, started dancing. He wore full regalia in the traditional dance style, including an eagle feather bustle. Traditionally, the sacred wooden and rawhide drum is the beating heart of the powwow. But that day, it was Broder's synthesized beats that marked Crowfeather's performance. "It was non-rehearsal, non-announcement, spur of the moment," recalls Rainey, who performed at Les Eaux Claires with another legendary Twin Cities drum group, the Midnite Express Singers. "It was on my mind for a long time as a 'It can happen' type moment."
Nearly four years later, Joe Rainey is living a moment of his own. On May 20, he released his first album, Niineta, via the label and collective 37d03d (pronounced "people") of Justin Vernon and Aaron and Bryce Dessner. The album blends Rainey's powerful vocals – and samples drawn from the hundreds of powwow audio recordings he's collected over the years – with Broder's slamming bass and jaw-droppingly performed string arrangements. by other 37d03d members. But Niineta is more than just soulful listening: its 10 tracks are coded with Easter eggs for Indigenous and non-Indigenous audiences. The title of the song "be son" means "the son of Black Elk" and mocks Rainey who misheard Soundgarden's "Black Hole Sun"; "Jr. flip," shouts both Rainey's son Joe Jr. and beloved Timberwolves coach Flip Saunders; and "no chants" gently educates those who unknowingly distort the chant of Rainey." This is a collaborative project that two people of different races did together," Rainey says. "It's not a kumbaya thing. We want to show you this infinity stone that would have must have been on the dang glove.



. 00:10 / 00:58
A member of the Red Lake Ojibway Band, Rainey grew up in the Seward neighborhood of Minneapolis, an enclave of tree-lined streets just west of the Mississippi River. Popular for its restaurants and trendy yet family-friendly offerings, Seward is also just a few blocks from the American Indian Cultural Corridor on Franklin Avenue, a cornerstone of Minneapolis' native community. Rainey's home was "literally across the tracks," he says, from the predominantly indigenous Little Earth subsidized housing complex. When Rainey was five, he attended a Mother's Day powwow at East Phillips Park, near Little Earth, where the iconic Minneapolis-St. Drumming band Paul The Boyz (also featuring Crowfeather, whose mother babysat Rainey) sang. They had long encouraged Rainey to sing with them, but he had always been too shy, until this afternoon. "For some reason I knew the song," he says. "Then I was standing behind the drum, and when the lead came I yelled it, then I ran away. It was an embarrassing moment for me, but after that it was cool.
He joined Little Earth Juniors, a group of young singers, and studied with his drum teacher and chaperone Darrell Kingbird, who is mentioned in NiinetaLiner notes. As he got older, Rainey formed drum groups with peers and family members, until singing took over basketball as his voice changed in high school. Three years after graduating in 2005, Rainey was recruited by the Midnite Express Singers for a tryout; the drum group noticed his talent when he was a young performer and they wanted to see if his vocal strength and technique survived puberty. It was the first summer that Rainey had traveled to participate in powwows, inter-tribal gatherings centered on dancing and drumming groups, with vendors selling Native food, arts and crafts. (At many powwows, dancers and drum groups compete for prize money.) Around the same time, Rainey was becoming an audio enthusiast. He scavenged General Electric and Sony cassette recorders from eBay and local garage sales, and traded his host drumming coat – a coat that was given to Rainey and the Midnite Express Singers for being the host or lead a powwow – for a Tascam. shortly before meeting Vernon at Eaux Claires in 2016. Rainey also attended audio engineering school at Northeast Wisconsin Technical College, and it was there that Niineta began to take shape.
One day, using the free audio editing program Audacity in a beatmaking class, he distorted half of a bypass song by the Little Otter Singers of the Mille Lacs Ojibwe Band – a band featuring Kingbird who are renowned for this singing style – to match the beat he heard in his head while listening to the song. Dissatisfied with his attempted remix, Rainey asked Broder if he could turn it into something like the beat that had Reuben dancing. At first, Broder hesitated. "He was like, 'Man, I'm not trying to be the drummer. I'm not native, man,'" Rainey says. And then he came back with four or five [tracks] right away." Rainey recorded vocals in the same chair from which he conducted interviews for the album, with a Kyrie Irving banner pinned to the wall behind him for inspiration. When Rainey was about to take a take, he would turn off the furnace and sump pump and shout to his three children and wife on the floor above him, "Quiet on set!" Parts of the duo's process are preserved in Niineta. Crackling album close "phil's offer" is an uncut version of the long instrumentals Broder uploaded to Dropbox, and Rainey's raw vocals appear two minutes after "easy on the cide" because that's the time he has. it took to start singing in Broder's footsteps.



. 00:10 / 00:58
"Easy on the cide" – 'cide short for "genocide" – opens with Wisconsin powwow MC Joey Ahwonopay joking about someone having toilet paper stuck to his moccasin at a local event in 2018. This particular sample in the context of the title symbolizes the interplay between light and shadow that adorns Niineta. "Turned engine", with a gripping chorus by Nakota Sioux singer Allie Bearhead, plays with the phonetics of a pejorative term deployed in dance with wolves (1990). (The song also "spinned like an engine," Rainey says, when Bearhead's vocals were added.) "Can key," the first haunting, spare song Rainey and Broder worked on together, refers to a fan favorite scene. thunder heart (1992) and features a clip of the now deceased Iron Boy McAllen Garvin, aka Big Mac. "When he was younger, his voice was one of a kind," Rainey says. "Losing him and not being able to have him on my left side was hard to get over."
The grief of losing so many people Rainey considered brothers is part of what inspired him to work on Niineta throughout the pandemic. His other motivation was to make his family proud. In one of Rainey's last in-person conversations with her grandmother Ruth, "she told me to keep going with my music," says Rainey, who adopted his Ojibwa nickname Zha1 as a nickname for his recording work and audio conversion recorded from powwow. Those words of encouragement, along with a resounding "hell yeah" from those he approached for permission to sample their vocals on the record, made him doubt whether to step out of the drum band. to release solo material. Broder also insisted that more people needed to hear this record than the "powwow kingdom" Rainey had originally envisioned as his audience.
"That's when I must have started thinking, 'Man, am I really going to be here like this? ", He said. "But it's my style to be outside the box. I needed to realize this about myself.