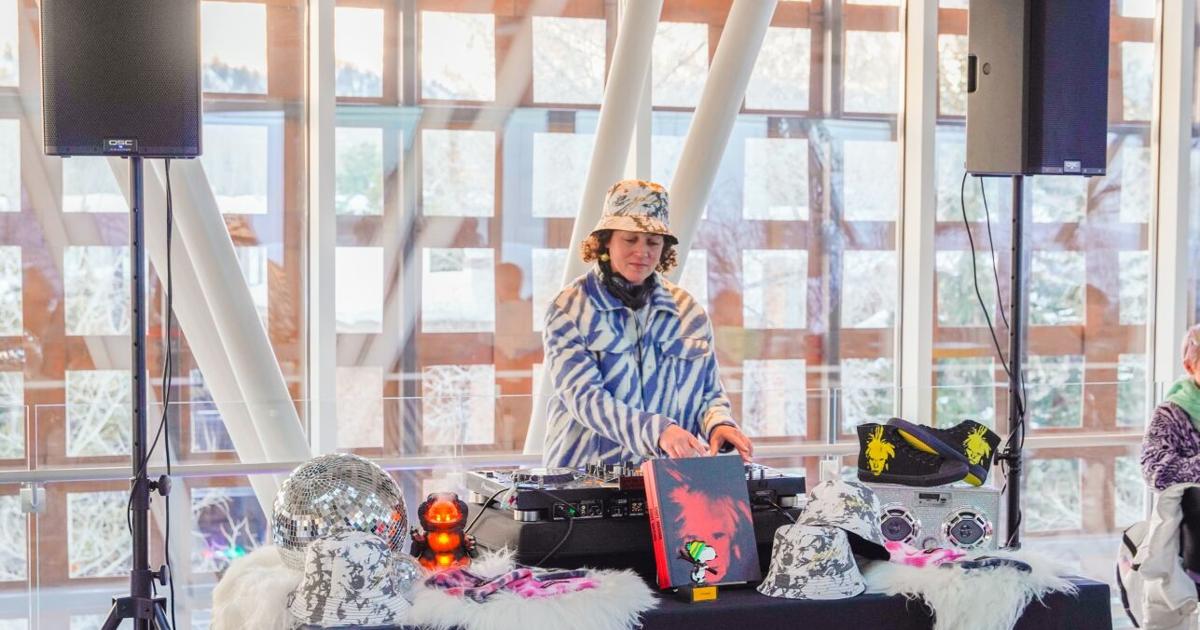 Find a Free Rhythm | summer guide
How to explore this summer's music scene, accessible.
An Aspen summer dances to many musical rhythms. From classical to electronic, blues to rock 'n' roll, you can easily harmonize your stay with a robust musical experience. And while a ticket to one of the smaller shows or larger concerts is well worth the purchase, you won't have to search long to find free, accessible music events throughout the Roaring Fork Valley.
As the field turns green, the music scene takes on a spontaneity all its own. An afternoon stroll becomes a free concert at the 8th Street Bus Stop, as the local jam band practices in Koch Park with a gathering crowd. Sunday shopping is accompanied by violinists performing along the town's cobbled streets. A lazy day of reading camped out on the Aspen Institute lawn has its own Benedict outdoor tent soundtrack. You're suddenly part of the audience for an Aspen music and school festival symphony.
As nature's blocks and nooks in town and throughout the valley bring daily musical moments, you're sure to hit the right note knowing the fixed musical affairs this summer. From bluegrass to DJ sets, here are some free weekly series.
SNOWMASS FREE CONCERT SERIES
Come summer, Thursday nights roll on and like clockwork, lucky locals busying their shifts pile into RFTA buses and head to Snowmass for the free outdoor concert on Fanny Hill . As the sun sets below the mountains, whether you're lounging on the top hill or dancing near the stage, live music has never been so liberating. Entering its 30th anniversary this summer, the longstanding tradition is a valley staple – one you won't want to miss.
Types of melodies:
The concert series brings a new band to the stage each week, featuring genres from pop, funk and soul to country, folk and rock 'n' roll throughout the summer .
Vibration check:
The restaurants at the base and in the mall offer take-out food for picnics. Volunteers sell beer, wine, and cocktails from pop-up bars on site — no outside alcohol is allowed, but soft drinks are allowed in sealed containers. Free village shuttles pick up and drop off at Town Park every 10 minutes on concert nights, and it's best to get off at the Snowmass Mall stop. Don't forget a jacket after the sun goes down.
Beat Details:
Thursday evenings | June 16-August. 25 | 6:30-8:30 p.m. | Fanny Hill, Snowmass village. gosnowmass.com
BLUEGRASS SUNDAYS
A sightseeing adventure in the Silver Queen Gondola of Aspen Mountain is a must during your summer stay and the best time to climb to the top is Sunday afternoon. Throughout the season, Sundays at the top of Aspen mean it's time for live bluegrass. There's no better place to relax than the Sundeck Patio with great bites, beers and views. Add an intimate outdoor concert to the mix and you're golden.
TYPES OF MUSIC:
The Sunday series brings a mix of local and visiting bluegrass bands.
Vibration check:
With plenty of kid-friendly activities and nature trails to explore atop Aspen Mountain, plus food and drink available for purchase at the Sundeck, Bluegrass Sundays are the perfect meeting place for friends and family. families. The concert series is free with the purchase of a gondola ticket or is free if your Sunday plans include the trek to Ajax – in which case some beer and live bluegrass are well deserved.
Beat Details:
Sunday afternoon | July 10-Sep 25 | 12pm-3pm | Outside the terrace, Aspen Mountain. aspensnowmass.com
ASPEN ART MUSEUM SUNDAYS AFTER
Last winter, the hottest afternoon spot in town was on the roof of the Aspen Art Museum with local DJ Alex Golden. As the museum's first-ever resident DJ, Golden lit up the rooftop, getting everyone from ski enthusiasts and billionaires to toddlers and octogenarians dancing together to the energy of his house beats. authentic. Meeting such success, the concept extends to daylight saving time. And there's no doubt that Sunday nights atop the Art Museum will be the coolest place in town.
Types of melodies:
Golden will be playing their house sets most weeks, with a few nights featuring other beloved local DJs. Golden is known for her down-to-earth spirit, and it shines through the DJ booth. His house style is not one to remix today's best hits. Rather, she takes you for a spin through laid-back beats, groovy beats, and amplified moments that will get you on your feet, no matter what your age.
Vibration check:
The rooftop of the Aspen Museum of Art is an open, airy space with connected indoor-outdoor seating and 360-degree views of Aspen. Between the summer breeze of the mountain and the free beats of Golden, what better setting to sip a cocktail at sunset?
Beat Details:
sundays | June 5-Sept. 4 | 7pm-10pm | Roof of the Aspen Museum of Art | Details subject to change. aspenartmuseum.org
Stay on your radar:
The Arts Campus in Willits (TACAW)
On Fridays and Saturdays throughout the summer, catch frequent live performances by special guest musicians at TACAW. Taking place on the outdoor lawn, the free shows will coincide with TACAW happy hour and dinner weekend programming.
In August, TACAW and the City of Basalt are teaming up to host a free outdoor concert in downtown Basalt. The major production serves as a precursor to TACAW's new bandshell coming to Basalt in the summer of 2023. For updates and details on free music events at TACAW this summer, visit tacaw.org.
Collective mass of snow
Located in the heart of Snowmass Village, The Collective and Plaza will offer free live music every Tuesday, Friday and Saturday throughout the summer season. Keep an eye out for updates and details on thecollectivesnowmass.com.
Sunlight Music Festival Series
"Do Sunlight" this summer by camping (literally, if you will) at Sunlight Inn for the second annual series of Sunlight Music Festivals. Details were still being worked out at the time of publication, but find out the latest information on backsunlight.com.